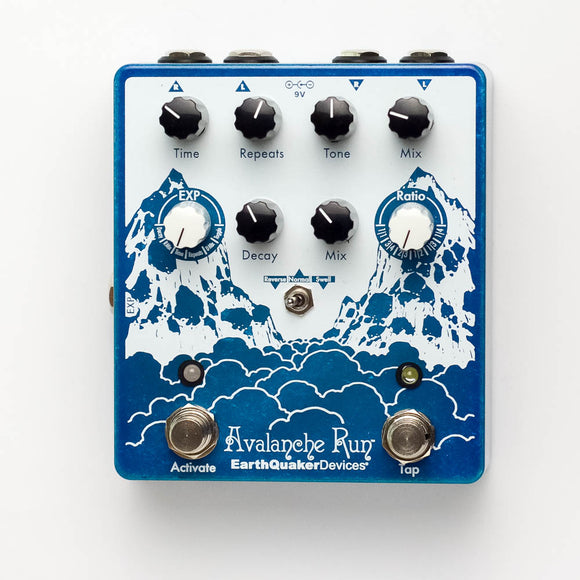 EarthQuaker Devices – Avalanche Run v2
Hey buddy! Welcome to your new Avalanche Run Stereo Reverb and Delay with Tap Tempo!
The Avalanche Run was developed with one goal in mind: to take the floating ambient tones of our Dispatch Master to the next level while still keeping it user friendly and refined.
The Avalanche Run is a dreamy sonic discovery device with up to 2 seconds of delay time and a lush stereo reverb. It features complete control over delay time, repeats, mixand voice (with the tone control), as well as control over the reverb length and mix. It can run in one of 3 different modes: Normal, Reverse and Swell. In "Normal"mode, the Avalanche Run functions as a straightforward delay and reverb. In "Reverse"mode, the delay line is in reverse and the reverb remains in normal mode. In "Swell"mode, the Avalanche Run reacts to your picking dynamics and adds a volume swell to the entire signal path much like manually raising and lowering the volume of your guitar.
Equipped with True or Buffered with trails Bypass, the Avalanche Run is hand made in Ohio, USA. The Avalanche Run V2 uses silent relay-based soft touch switching. Audio will not pass without power.
- stereo Reverb / Delay/Reverb effects pedal
- up to 2 seconds delay time
- selectable true / trails bypass
- footswitch works as momentary or latching switch
- tap tempo functionality
- digital operation
- vast variety of tape and analog voiced delay sounds
- controls for Time, Repeats, Tone, Mix (Delay) and Mix (Reverb)
- 6-way rotary EXP switch for selecting the expression controlled parameter
- 6-way rotary Ratio switch for selecting the tap tempo division
- toggle switch for selecting Delay/Reverb mode (Reverse / Normal / Swell)
- Activate footswitch
- silent relay-based soft touch switching
- Tap footswitch
- status LEDs
- metal housing
- 2 x 6.3 mm mono (L / R) in- / outputs
- 6.3 mm TRS for expression input
- power supply via included 9V DC adapter 2.1 mm x 5.5 mm barrel plug, polarity (-) center
- Battery operation not supported
- Dimensions (D x W x H) 140 mm x 120 mm x 57 mm
- Current draw 425 mA
- Hand made in USA