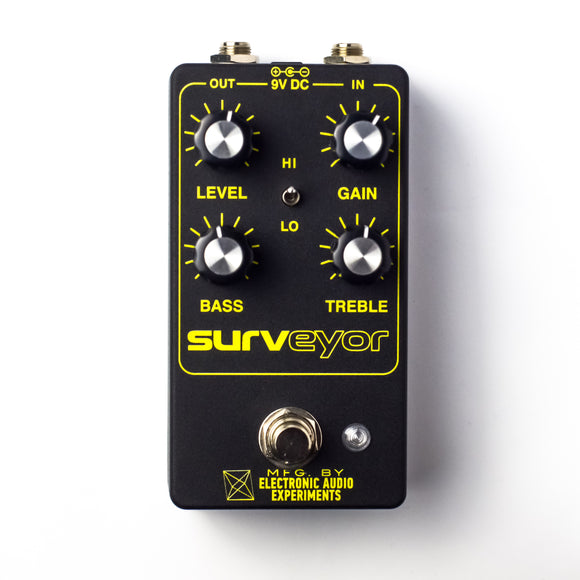 Electronic Audio Experiments – Surveyor Instrument Voicing Preamp
The Electronic Audio Experiments Surveyor is a compact interpretation of the Intersound IVP (Instrument Voicing Preamp), a cult classic rackmount preamplifier used in some famous noise rock rigs. This 4-knob drive was previously found in the left half of our Dude Incredible pedal, and it is now available on its own in a more compact and manufacturable form factor.

The original IVP is best known for its distinctively clangy tone with the treble cranked— especially in conjunction with aluminium guitars and full range speakers. But it is far from a one-trick pony. Thanks to its 2-band active EQ and unique "Tube Voice" clipping circuitry, the IVP can sculpt all kinds of saturated textures that transcend genre labels.
Controls:

Level - output volume, with more than enough range to overdrive your amp's input.
Gain - amount of overdrive/saturation, highly interactive with the EQ.
Bass - active pre-distortion low shelf.
Treble - active pre-distortion high shelf.
Hi/Lo (switch) - sets the range of the gain control. In the Lo setting the gain range is -15dB to +12dB, in the Hi setting the gain range is +9dB to +36dB.
Additional specs: 
125B size enclosure (4.7 x 2.6 x 1.5")
True bypass soft-touch relay switching for many cycles of hassle-free operation
Uses standard 9V center negative power ONLY
Current draw: 45mA