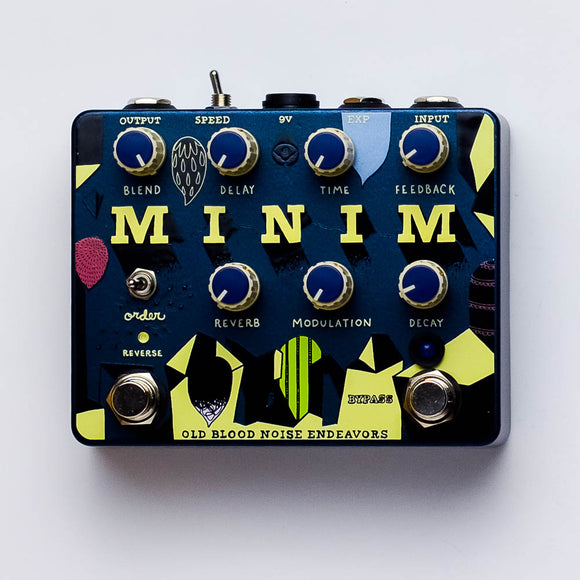 OBNE – Minim, reverb, delay and reverse
Immediate Ambience Machine
Looking back on an inspiring year of collaboration with Datachoir, Old Blood Noise Endeavors created Minim, a new pedal built from the foundation laid out by Rêver. Inside is a newly voiced reverb with harmonic tremolo, a modulated delay with nearly infinite repeats available, and a reverse section selectable between normal speed or double speed. Sat next to the Rêver, it's like a long lost sibling. Put both on your board and see how well they get along.
Features:
A modulated reverb with controls for mix, modulation, and decay
A post-reverb modulated delay with controls for volume, delay time, and feedback
A reverse section with controls for mix and speed (for double time effects), activated with a clever footswitch for momentary or latching operation
Order switching to put reverse first in the chain for ambient wash or last in the chain for glitchy textures
Expression jack for external control of the Reverse mix
Internal trimpot to control output level
Relay bypass switching
Requires 9V 2.1mm negative center-pin power adapter (not included). Current Draw: 159mA

*Art by Timothy Elliott.