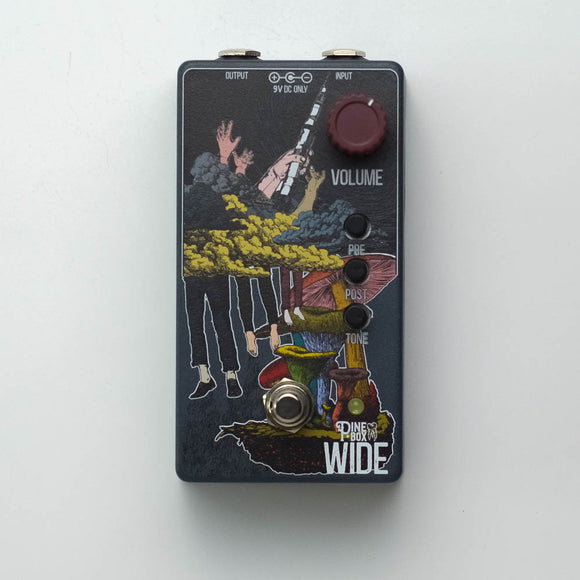 Pine-Box Customs – Wide v2
WIDE is the fourth offering in "The Wild Series".
Originally released as an internally tweak-able one knob fuzz, WIDE has transformed into an incredibly versatile high gain fuzz.
The most notable update for v2 is the size of the enclosure. We had fun with the oversized 1032l, but we have brought it down to a standard 125b for its practicality. V2 updates bring the internal controls to the outside of the enclosure and allow you to control the volume, pre-gain, post-gain, and tone. V2 also sports a more durable UV printing and board mounted instrument and DC jacks.
WIDE is certainly capable of lower gain sounds, but it was designed to be a wall of fuzz and to annihilate the front end of whatever it touches. It works really well for leads as well as rhythm. Like all pedals in "The Wild Series" , TALL is made in small batches in Memphis, TN.
CONTROLS
VOLUME- controls the overall output volume of the pedal
PRE- controls the gain of the input stage
POST- controls the amount of gain in the third stage
TONE- controls the high/low frequencies in the pedal