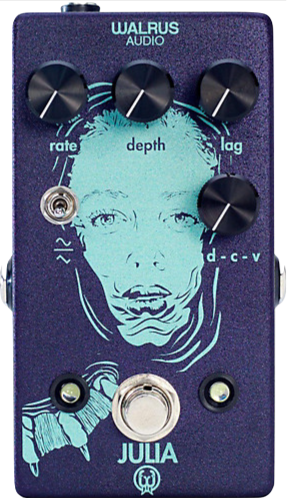 Walrus Audio – Julia
The Julia is a fully analog, feature-rich chorus/vibrato packed with a wide array of tonal landscapes begging to be explored. Julia is able to produce mild smooth chorus, to seasick vibrato and everywhere in between. With controls like Lag, Dry-Chorus-Vibrato Blend, and selectable analog LFO wave shapes, you are able to dial in all types of classic and unique chorus/vibrato sounds not found on traditional chorus pedals.
In 1999, spectrographs picked up an unexplained sound emanating from dark ocean depths. The source of the sound was untracable. While most scientists attributed it to an iceberg draging the ocean floor, some skeptics began to understand the true source of the sound. Julia, the water demigoddess. Crying from the deep in a chorus of melancholy hymns, she remains to be uncaught but the pursuit for her is unceasing. Walrus has captured a fraction of her powers in the Julia Analog Chorus/Vibrato.